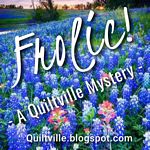 The first thing I wanted to do this week was to finish clues 6 and 7 before 8 came out yesterday. This is Bonnie Hunter's latest mystery quilt. You can find the details here on her website, and the pattern is still free until February 1st.
Clues 6 and 7 were no problem, and I had gotten them done by Thursday evening.
Then on to clue 8. I had no problem with making the units, but we combined 2 sets of clues, sewed them, and then clipped them back together. I must have been in a brain fog last night, I was trying to clip them back to their units, and I seemed to have a problem finding the right ones. I tried again this morning and got them all clipped together.
All ready for the next clue.
Also yesterday I spent the day cutting out my Winter Blues Blog Hop project, plus a baby quilt for our niece who had a baby girl yesterday. I cut these all out with my Accuquilt cutter, and it made it a breeze!
Guess I'd better get busy sewing.
Thanks so much for stopping by