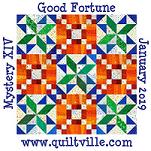 I'm so glad to be completely caught up!
I've been busy getting my goals ready for the 2019 Finish-A-Long. There are a number of global hosts, but I usually hook up at
Marci Girl Designs
. You can see all the global hosts on her blog. Each quarter you make a list of things you would like to finish. I've also been trying to get the last redwork design on my 2018 Quarter 4 list done. I am right down to the wire on this, but I think I can get it done tonight.
Thanks for stopping by! Karrin